MIGUEL SARRIA-DALY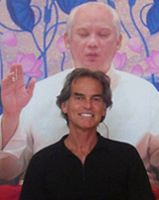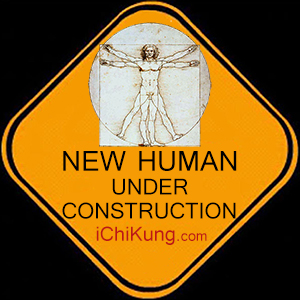 An intuitive accomplished Energy (spiritual) teacher, in the Healing Arts and the founder of the Institute of Integrative Chi Kung. He comes from many years of trekking and researching complementary medicine and integral balance having traveled throughout the world practicing Yoga (since 1954), Meditation (since 1962) and Chi Kung (since 1963). His talents come from his understanding and insight of the universe and the ability to see the impact of the environment on our bodies and our need to reconnect to a balanced environment.
Spent a year living in the northern Amazon on the legendary "Tepuis" learning from the natives the essence of their connection to nature. He has practiced and teaches the art of Shank PrakShalana and Shiatsu for over 45 years.
A certified instructor of the martial arts Kojosho, Shi-Pa-Sho Chi Kung, and Integrative Jing-Chi-Shen Kung. He practices and teaches the integration of multiple modalities like:
| | | |
| --- | --- | --- |
| Apitherapy | Energy Cultivation | Nasal Irrigation |
| Back Care Yin Yoga | Integrative Kundalini Yoga | Pranayama |
| Biodecoding® | Kundalini Syndrome | Pranic Healing |
| Integrative Chi Kung | Inner Engineering | Shank PrakShalana |
| Detox | Integrative Meditation | Tantra Yoga |
| Essential Therapeutic Oils | Integrative Nutrition | Zen, the Art of Hammock Riding |
A direct pupil of Master Choa Kok Sui, founder of Pranic Healing and Arhatic Yoga. He became a Certified Energy Pranic/Integrative Chi Kung Healer due to his commitment and understanding of the techniques and universal energetic connection.
A certified "Conseiller in Biodecoding®", by Christian Flèche. Biological Decoding (Biodecoding) of the psycho-cerebro-physical effects of diseases that manifest in the body explains that the "activation of illness" is the body's reaction to unresolved events that are frozen in time. These unresolved traumas affect the body on the cellular level and manifest in minor as well as more serious chronic conditions. Biodecoding offers one of the most innovative approaches to illness and natural healing. It proposes a new way of decoding symptoms (whether physical, emotional or mental) and resolving their biological, emotional and ancestral cause through a well-defined signature methodology that has integrated various concepts such as: psycho-biogenealogy, Marc Fréchet's works, Bio-NLP, Ericksionian hypnosis and other recent scientific discoveries.
Completed the "Inner Engineering Retreat" for Shambhavi MahaMudra Kriya developed by Sathguru, at the Isha Institute of Inner-sciences in McMinnville, Tennessee. It is a 21-minute kriya which is a powerful and purifying energy technique using the breath. It gives you access to your deepest life energies and makes them vibrantly alive, helping purify the five elements (earth, water, fire, air, space) in the body.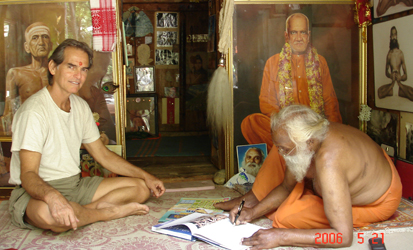 Embodies the "Red Tailed Hawk" whose own gift of psychic vision may be exceptionally acute, and the ability to view the broad picture with a clear understanding that all things happen for a reason.
He shares with Chief Seattle, of the Amerindian Suquamish and Duwamish tribes in what is now known as the Washington state, the philosophy that,
"You must teach the children that the ground beneath their feet is the ashes of your grandfathers. So that they will respect the land, tell your children that the earth is rich with the lives of our kin. Teach your children what we have taught our children, that the earth is our mother.
Whatever befalls the earth, befalls the sons of the earth. If men spit upon the ground, they spit upon themselves. This we know, the earth does not belong to man, man belongs to the earth."
I am something that I am carrying, that I can let go of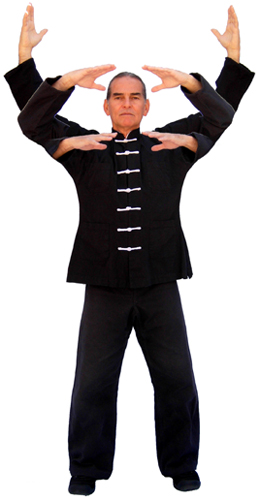 In his classes he weaves with each thread of experiential intelligence (sūtra) a garland of wisdom savored by those who live in unified knowledge. He integrates into the teachings the primary Hatha-Yoga sources inheritors of the Tantrik tradition, The eight(8) dualistic philosophy disciplines codified by Patanjali, the Tantrik tradition, the Recognition philosophy of Nondual Śaiva Tantra from Rājānaka Kşemarāja, Kundalinī-Śakti, Schumann Resonances and Hans Berger, the philosophy of Lao Tzu (Taoism), the Tibetan traditions, and Nassim Haramein Unified Physics, the fundamental organizing intelligence of Embodied Consciousness (Gheranda-samhitā).
His teachings are designed to jolt us into awareness of our original nature, with an abrupt, provocative, and immensely profound style, cutting to the core and wasting little effort on inessentials.
As a trekker he has traveled the world including Asia, Australia, Europe, Middle East, the Caribbean and most of the American Continent. As a navigator he has kayaked, sailed, dived and fished in the Mediterranean, Caribbean Sea, and the Pacific Ocean since his youth.
As an Energy Pranic and Shen Kung Healer he has worked successfully with fibromyalgia, reduction of high blood pressure, torn ligaments, cancer, depression, Kundalini syndrome and much more. He has traveled to work with the World Healing Institute, a nonprofit center in Hawaii working with Phillipino children who have been born with encephalocele, a protrusion of the brain bulging through a frontal cranial fissure requiring major reconstructive surgery. He has a caring attitude and approach that will help you achieve your desired results. His certification is from the Institute for Inner Studies, Inc. located in Makati City, Philippines.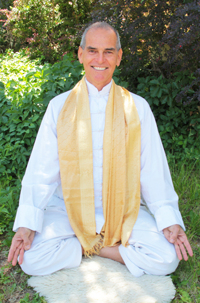 As a Chi Kung instructor he has mastered the art of integrating traditional arts of "North and South Asia" with the western approach to healing. Combining the knowledge of the old and the new, tradition with science, and intuition with facts as the basis for providing an educational path to human discovery. This led him to establish the INSTITUTE OF INTEGRATIVE CHI KUNG, making accessible knowledge, tools and methods to reconnect with the original source of life energy. In this path, he leads us into a joyful adventure of self-discovery.
Promotes Bee Venom Therapy (BVT) or Apitherapy using honey, pollen, propolis, royal jelly, and bee venom. BVT uses apitoxin to activate the autoimmune system and relieve the symptoms associated with multiple sclerosis (MS), fibromyalgia, many forms of arthritis and other health issues.
A certified Apitherapist from Coloreando Auras Institute of Apitherapy, studying under a Master trained and certified by renown international teachers and doctors such as Dr. Stefan Stangaciu, Director of the German and Rumanian Apitherapy Association; Master Dr. Hirofumi Naito from Japan; Master Alejandro Bianchi from the Abeja Yothe in Mexico; the Bee Research Center in Cuba and has participated at the South American Bee Congress.
All of these will ensure your experience is a memorable. He will help you with your spiritual path by allowing life to unfold through a full experience through the four (4) bodies: Physical, Emotional, Mental and Energetic (spiritual), and to reconnect your inner being with Mother Nature. ~ Sheevaun Moran
Contact information:
Email: Info@iChiKung.com
Telephone:
Costa Rica +506 8317-2005 (Signal or Telegram only, No WhatsApp)
USA +(505) 750-1455
ADVANCED ENERGY HEALING SHEN KUNG SESSION FOR KUNDALINI SYNDROME
     Accompanied by Integral Balance solutions to your health
Shen = Subtle Energy, Kung = Administration


One-on-One sessions in person or distant healing are both equally effective. Please reserve in advance to receive a Session Case Information PDF document via e-mail which will be used as the basis for the first session. The completed document is required with a picture. The session will be conducted via Skype or in-person if I am in your town.
Contact Email: Info@iChiKung.com
Book first session (1.5 hours):
| | |
| --- | --- |
| | $90 USD |
| Cedit Card (PayPal) | |
Book thereafter session (45 minutes):
| | |
| --- | --- |
| | $54 USD |
| Cedit Card (PayPal) | |
Refunds will not be available for registrants who choose not to complete the session.
R.S.V.P. Info@iChiKung.com to schedule session
Disclaimer: Please remember that One-on-One sessions in person or distant healing are not a substitute for professional care or psychiatric help if that is what is needed. Many physicians and psychologists recommend meditation in conjunction with standard therapies.
BOOKS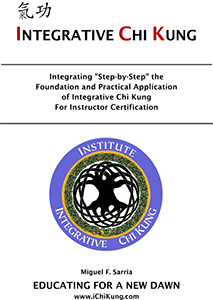 INTEGRATIVE CHI KUNG
(eBook English Edition)
Integrating "Step-by-Step" the Foundation & Practical Application of Integrative Chi Kung
This book is genuinely eye-opening. It is an advanced comprehensive text focusing on the integration of Traditional Chinese, Ayurvedic, Tibetan and Current Western Science energy management models. It is highly useful to add to the more advanced library of complementary medicine.
One of the few authors who provides a complete detailed analysis of the components of Chi Kung that can be applied to everyday practice. His approach provides extra information needed to treat an energy imbalance, rather than symptoms alone. The author combines the things we learn, the way we interpret the world, and the make-up we bring to it, is practical and applicable.
There are other books out there, but few that have an easy to read format for both students and patients. This is a must read for anyone who desires to learn and understand the core of energy management. This book is an essential component to mastering Chi Kung.

Purchase eBook in PDF format:
Educating For A New Dawn PublicationsTM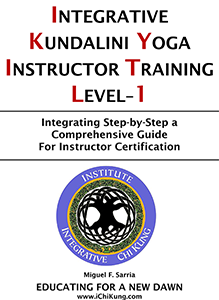 INTEGRATIVE KUNDALINI YOGA
(eBook English/Spanish Edition)
Integrating "Step-by-Step" a Comprehensive Guide for Instructor Certification
Highly recommended book to deepen knowledge and practice of Energy Management through Kundalini Yoga.
It covers the complete philosophy of Kundalini Yoga providing a clear understanding of the meaning of the "art of silence" and "inner awareness." Covers mantras, breathing, nadis, hand mudras used in meditation, the use of the Neti and the inner journey. Questions why we choose Kundalini Yoga and how its practice changes the quality of our life.
Offers a practical guide and application of the Kundalini Awakening in a safe manageable practice. Explains the common manifestations of the rise of Kundalini which is key to opening the power of your spine, promoting a stronger and healthier being.
It contains a complete set of 41 asanas, movement, transition, breath, mantra, visualization, and photographs for each asana. Mastering this sequence is the first step to become a certified instructor of Kundalini Yoga Level-1.
Purchase Integrative Kundalini Yoga eBook in PDF format:
| | |
| --- | --- |
| | $15 USD |
| Tarjeta de Crédito (PayPa) | Español |
| Credit Card (PayPal) | English |
Educating For A New Dawn PublicationsTM